---
Spain increased its high-speed rail mileage this summer and is on track to reach 2,500 miles over the next year, maintaining its position as the seat of the world's second-largest high-speed rail network. China is No. 1 with a network eight or nine times larger.
As the Spanish network has grown, the government – ​​which owns and funds the network – has encouraged competition between rail operators; it's starting to see results.
Three new lines in one month
In July, the country opened three sections of high-speed lines, widening and connecting the network, although in some cases the projects have been underway for many years and are not yet fully completed.
A new 54-mile, 218mph standard-gauge line between Venta de Baños and Burgos opened on July 22, extending the existing high-speed rail line in northern Spain. This has shortened travel times between Madrid and northern cities such as Bilbao and San Sebastián. Travel time between Madrid and Burgos has been reduced by 45 minutes, from 2 hours 15 minutes to 1 hour 30 minutes.
To save money, the line was built as a single track, with room for a second track in the future. Eight pairs of trains use the new route.
A more ambitious high-speed project to the north, known as the "Basque Y" lines, will significantly reduce journey times between Madrid and Bilbao/San Sebastian. This one has been under construction for a decade and is nearing completion, with an opening date of 2023 penciled in. This project includes a 15.25 mile long base tunnel under the Pajares Pass. Spanish rail infrastructure company ADIF said it would spend around $12 billion on new high-speed rail lines in 2022 alone.
One of the widest concrete railway arches in the world
The 93-mile-long western section of a planned high-speed line linking Madrid with the Extremadura region and the Portuguese border opened on July 19. Initially, this line, from the small town of Plasencia to the border town of Badajoz, is operated as a non-electrified wide-gauge (5 ft, 6 in) route, as electrification work has just begun. This line cost $1.7 billion and is being built in a sparsely populated area. It comprises 28 viaducts to span the river valleys, with the Altmonte viaduct featuring an arch 420 meters wide. ADIF claims it is one of the widest concrete railway arches in the world.
The route has been built with special concrete sleepers that allow for a quick conversion to standard gauge, which is expected once the other 168-mile stretch from Madrid to Plasencia is built. This is unlikely in the next few years, as most of the route is still in the planning stage. ADIF has already taken this approach elsewhere in Spain, building part of a new broad gauge route and later converting it to high-speed status.
Since July, the number of trains between Madrid and Badajoz has increased, but to only two pairs of trains per day instead of one on most days. One of these is the existing Intercity service formed by Talgo coaches pulled by a diesel locomotive; the other is an Alvia Class 730 dual-mode electric and diesel high-speed train, running at no more than 100 mph on diesel for most of the journey. Only the line used in the suburbs of Madrid is already electrified for suburban trains.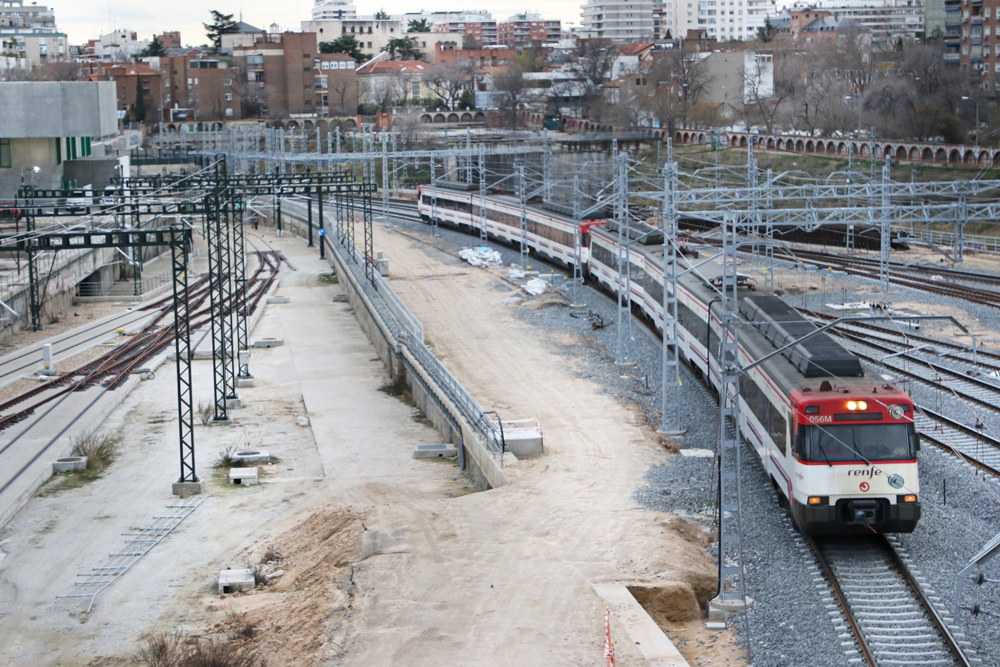 The shortest section of the new line to open in July is the first standard gauge connection between high-speed lines north of Madrid and those going south to Spain. The new 4.5-mile tunnel connects Madrid's main high-speed station in the south, Puerta de Atocha, with the city's second high-speed hub at Madrid Chamartín. There were already two wide-gauge tunnels that took different routes between the two stations, but only high-speed trains with variable-gauge bogies could use them.
The tunnel project has been repeatedly delayed; and despite tunneling work being completed in 2011, installing the track and systems took a decade while further work was undertaken to create a 17-mile four-lane high-speed section south of Madrid. Despite the extended construction time, the planned underground high-speed station under Puerta de Atocha has not yet been built.
The competition too
Later this year, three high-speed rail operators will compete on Spain's busiest routes. The government has encouraged "open access" competition on the public rail network run by ADIF.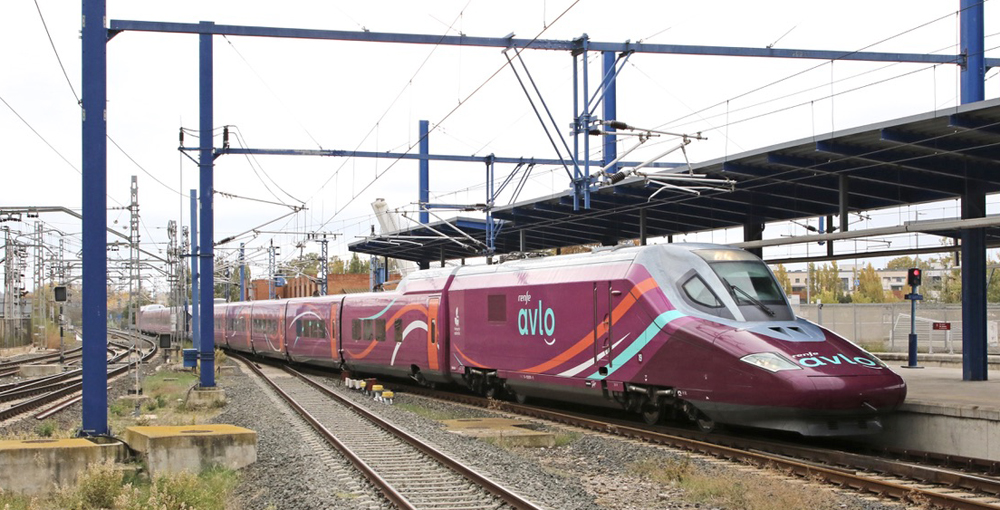 The government-owned national rail company, RENFE, operates high-speed services throughout the country, but in some cases it operates relatively few trains each day and per route. These are branded AVE (for Alta Velocidad Española, or "Spanish high speed", with "Ave" also the Spanish word for bird). In response to the threat of competition, RENFE established a new low-cost operating company called "Avlo", which has a small fleet of ex-RENFE high-speed trains. These have a purple color scheme.
Plans to launch Avlo in early 2020 have been delayed by the Covid pandemic, as have plans for SNCF, France's state-owned rail company, to enter the market. SNCF has set up its own low-cost "Ouigo España" operation, modeled on the "Ouigo" model that it has operated in France for several years. Ouigo España uses a small fleet of modern 200mph French TGV trains equipped for use in France and Spain. It began service on Spain's busiest route, between Madrid and Barcelona, ​​in March 2021.
The third new operator plans to start service in November on the Madrid-Barcelona route and is the only one to include private investors. This joint venture between the Italian public railway company Trenitalia and the Spanish airline Air Nostrum bears the "iyro" brand. It will offer a wide range of options to passengers, and not just at low cost. It will use 23 brand new ETR1000 high-speed trains built by Hitachi in Italy. This equipment is already in use in Italy, where Trenitalia has faced competition from the high-speed private sector since 2012. Since December 2021, ETR1000 trainsets are also used for new high-speed services from Milan to Paris, as well as some services in free access. services in France in direct competition with SNCF TGVs. In a few years, iyro plans to offer services connecting Madrid with Barcelona, ​​Valencia, Alicante, Malaga and Seville.